February 3, 2022
Posted by:

Alice Mapulanga

Categories:

News, Uncategorized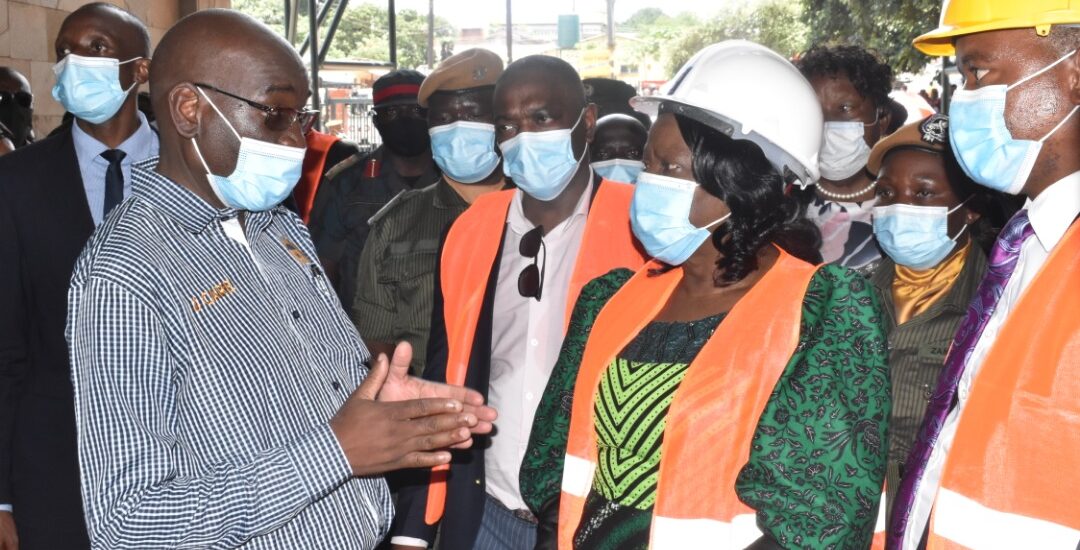 Zambia's Vice President, Mrs W.K Mutale Nalumango has commended the National Pension Scheme Authority for a job well done in the construction of the Mosi-oa-tunya Livingstone Resort in Livingstone. The Vice President said she was happy with the workmanship that she had seen and wished more projects could be done like that.
Speaking during the tour, the Vice President said the resort would play a big role in the economic development of the country and in job creation.
"I am happy to learn that the construction company has utilised local labour and locally available skills as this brings employment for our people," said Mrs Nalumango.
The Vice President was also delighted that more jobs will be created when the resort becomes fully operational. She stated that the government had a focus on job creation especially for the youth, and NAPSA, with its investments and particularly the Mosi-oa-Tunya Livingstone Resort was helping the government to achieve its objective.
''This investment also solves the issue of accommodation infrastructure, especially looking ahead to when the Covid-19 pandemic will come to an end. It will also be a driver for local tourism especially with the planned provision of local and international rates,'' she said
The Vice President also expressed delight at the pace at which the resort was being constructed. The initially projected completion date was September 2022, but the contractor is ahead of schedule and has promised to complete works in June 2022.
"This is a work culture that needs to be developed by everyone in the nation, to finish works in good time. For any service, we need to observe 3 things – Cost effectiveness, Quality work and Timely delivery," reiterated the Vice President.
The Vice President expressed confidence that investment in the Resort would not only contribute to the growth of the tourism sector and the economy of the country, but that it would work for NAPSA members and grow their retirement fund.
During the tour of the Livingstone City Market which has been completed by NAPSA, the Vice President said the digital era had come and Zambia needed to embrace the trend in its transactions. This was in reference to the cashless mode of payment to be employed at the market.
The Vice President praised NAPSA's initiative not only for the investment but for ensuring that the Authority extended social security coverage to the informal sector; the traders and marketers who would be occupying the new market.
And NAPSA Director General assured the Vice President that the Authority would continue to invest members' funds in projects that bring benefits to the members and the country at large. He thanked the Vice President for visiting and supporting the projects.
The Vice President was accompanied by the Minister of Labour and Social Security, Hon. Brenda Tambatamba, MP, Minister for Small and Medium Enterprises, Hon. Elias Mubanga, MP, Southern Province Minister, Hon. Cornelius Mweetwa, MP and other government officials