December 24, 2021
Posted by:

Alice Mapulanga

Categories:

News, Public Notices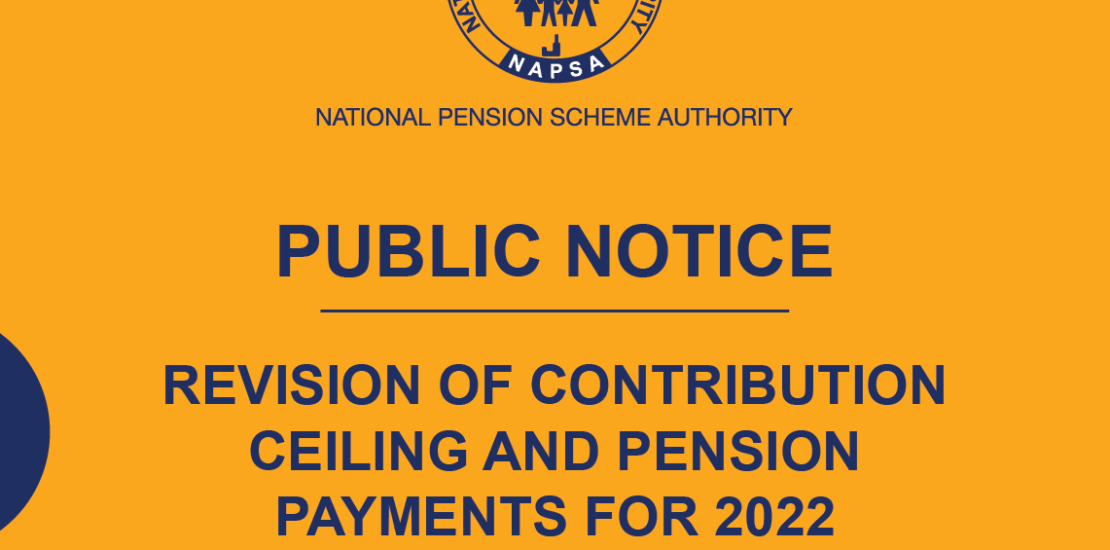 The National Pension Scheme Authority is mandated to review the contribution ceiling and pension payments annually and adjust them in line with the change in the National Average Earnings (NAE). This is in accordance with Section 35 of the National Pension Scheme Act No 40 of 1996.
The National Average Earnings are determined annually by the Zambia Statistics Agency. In coming up with the NAE, the Zambia Statistics Agency considers the  wage inflation in the formal sector for the preceding year.
The National Pension Scheme Authority wishes to advise employers and the general public that the NAE has increased from K5,797.00 in 2021 to K6,109.00 in 2022. Accordingly, the contribution ceiling has increased from K23,188 in 2021 to K24,436. The contribution ceiling is the maximum amount upon which NAPSA deduction can be applied from the employee's salary. Any amount beyond that is not subject to NAPSA contribution.
Hence, the maximum employee monthly statutory contribution deductible for the year 2022 is K1,221.80 which is 5 percent of the contribution ceiling. This entails that the maximum monthly contribution payable by employers is K2,443.60 constituting 5 percent employee share and 5 percent employer share.
Employees earning below the contribution ceiling continue to contribute 5 percent of the individual's applicable monthly earnings.
The Authority would like to reiterate that the NAPSA contribution rate has not changed from the current 10 percent of the employee's monthly gross earnings subject to the statutory contribution ceiling.
For purposes of making social security contributions to NAPSA, earnings refer to any benefit given by an employer in exchange for the employee's service, including basic salary, allowances, bonuses, commission, severance pay, overtime allowance, leave allowance, commuted leave days and other allowances.
The increase in the national average earnings figure also implies that all pensions will be increased in line with the change NAE.
For further information or clarification, please contact us on Telephone: 0211 395677, toll free line: 677, WhatsApp: 0973000677, email: info@napsa.co.zm .
NATIONAL PENSION SCHEME AUTHORITY