March 11, 2020
Posted by:

Simangolwa Muyunda

Category:

News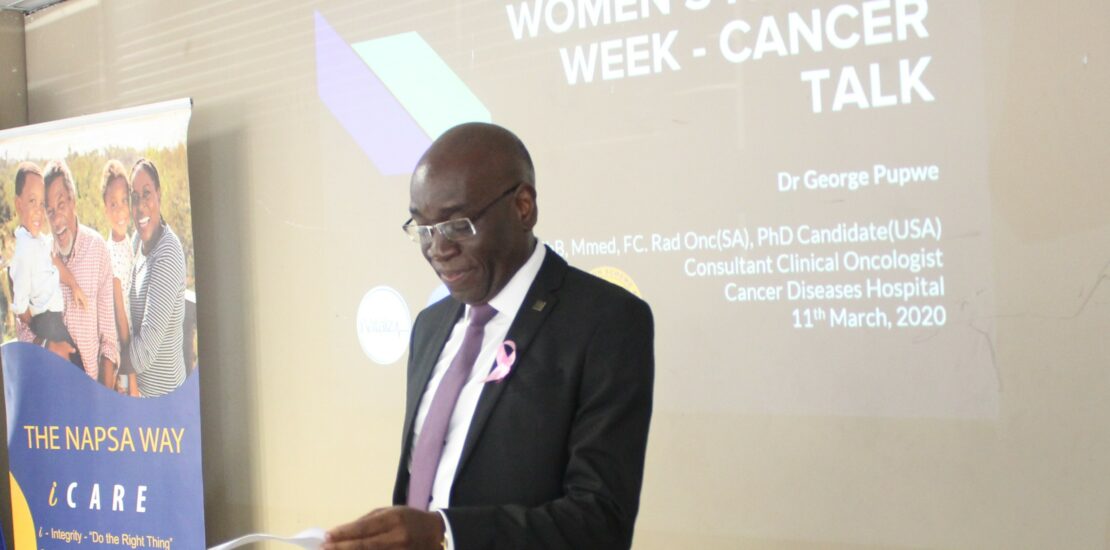 The National Pension Scheme Authority has launched the In-house countrywide cancer screening programme for all its staff and their spouses.
Speaking during the launch of that took place at head Office in Lusaka today, Mr. Yollard Kachinda, Director General, said the Authority took a deliberate move to facilitate breast and cervical cancer screening services to employees as cervical cancer was the most frequent cancer and ranked as the most cause of morbidity and mortality among women.
Mr. Kachinda noted that the majority of female employees in the Authority fell within the high-risk bracket of developing cervical cancer and hence the need to take precautionary measures against the disease.
"The major activity we are undertaking as an institution this year in commemoration of the International Women's Day is a countrywide In-house screening programme for breast and cervical cancers in line with the Ministry of Health 's advocacy for early detection and prevention of the disease through screening," he said
Mr. Kachinda added that cancer screening was also being conducted in line with NAPSA's wellness policy that promotes care, support, treatment for employees as well as prevention through change of behaviour and lifestyle that include medical checkups and physical fitness activities.
Speaking at the same function, Madison Life Insurance Company Managing Director Mrs. Agness Chakonta expressed happiness in partnering with NAPSA to champion cancer awareness and screening among members of staff.
Mrs. Chakonta was confident that cancer screening and early detection was a sure way to maintain a healthy workforce by raising awareness about how members of staff could reduce the risk of being infected with cancer.
"We realise that over the years late diagnosis, poor health seeking behaviour due to lack of information about cancer or fear of the unknown have been contributing factors to the increasing cases of Breast, Cervical and Prostate cancer in Zambia," she added.
Mrs. Chakonta expressed optimism that the partnership with NAPSA would augment government and other stakeholders' efforts in the fight against cancer.
The incidence of cervical cancer is very high in sub-Saharan Africa. At Continental level, Zambia has the second highest prevalence rates after Tanzania.