March 2, 2020
Posted by:

Simangolwa Muyunda

Category:

News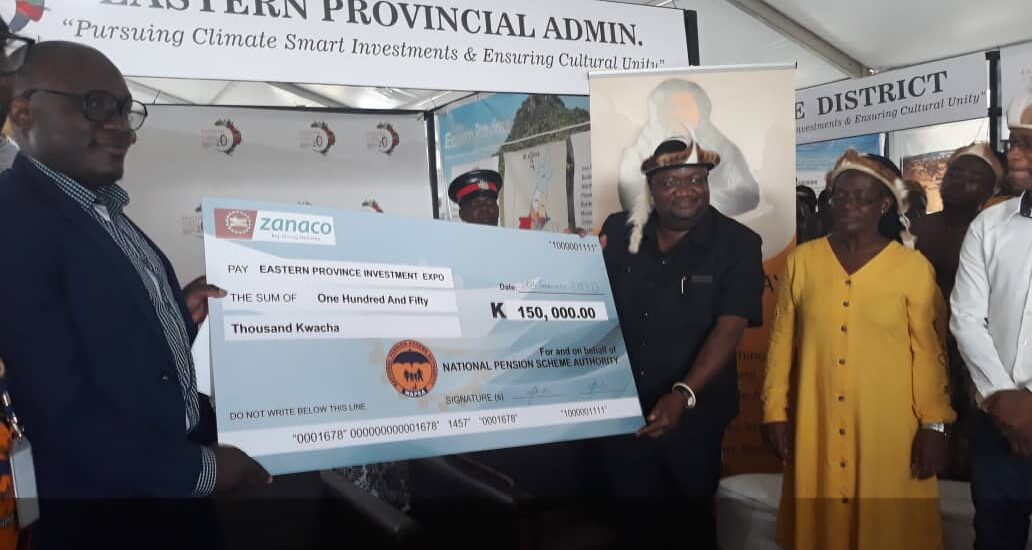 The National Pension Scheme Authority says Zambia is endowed with abundant natural resources that can be exploited for the nation's economic gain and wealth and job creation.
Speaking recently in Chipata when NAPSA made a donation of K150,000 towards the hosting of the upcoming Eastern Province Investment Expo and Conference slated for August 2020, NAPSA Director General Mr. Yollard Kachinda said  the investment expos that have taken place across the country have unveiled  potential investment sectors in the economy..
In a speech read on his behalf by Director Investments, Mr. Mwewa Kyamulanda, Mr. Kachinda said NAPSA's interest in supporting investment expos also arises from the resultant benefits to the Authority through job creation and economic development.
"The Eastern Province is endowed with huge tracts of arable land and generally good climatic conditions suitable for production of a variety of crops. The province contributes significantly to food security at both national and household levels as it is the largest producer of the staple food – maize. This is in addition to other agricultural products that are found here.
"Tourism, specifically in arts and culture, is another economic activity that the province can harness. This is not only a priority growth sector of our economy but can also be a major contributor to job creation.
"The province is quite rich in various mineral resources such as gold and manganese which can be exploited to create jobs and wealth for the people," he said.
Mr. Kachinda assured the provincial administration that the Authority had planned some investments in the province that would create jobs and wealth for the local people.
"Am happy to mention that the Board of Trustees of NAPSA has approved a partnership with the Industrial Development Corporation in hybrid food processing in Eastern, Western and North-western provinces. The processing plants will produce a variety of products such as mineral water, fruit juices, jam concentrates and dried snacks from fruits such  mangoes and tomatoes. These processing plants are expected to create hundreds of jobs for the local people."
And receiving the donation, Eastern Province Permanent Secretary Dr. Buleti Nsemukila thanked NAPSA for the gesture.
Dr. Nsemukila expressed confidence that the Investment Expo in his Province would be exceptional as all the fourteen districts in the province were able to demonstrate specific investments potential in agricultural, tourism and mining investments.
He further urged NAPSA to identify various public private partnerships in Eastern Province that the Authority could collaborate with.
The National Pension Scheme Authority has since 2018 supported various investment expos across the country namely; Luapula, Central, Northern, Copperbelt, North Western, Southern and Eastern Provinces with a view to unveiling the economic and investment opportunities around the country.