March 4, 2019
Posted by:

Simangolwa Muyunda

Category:

News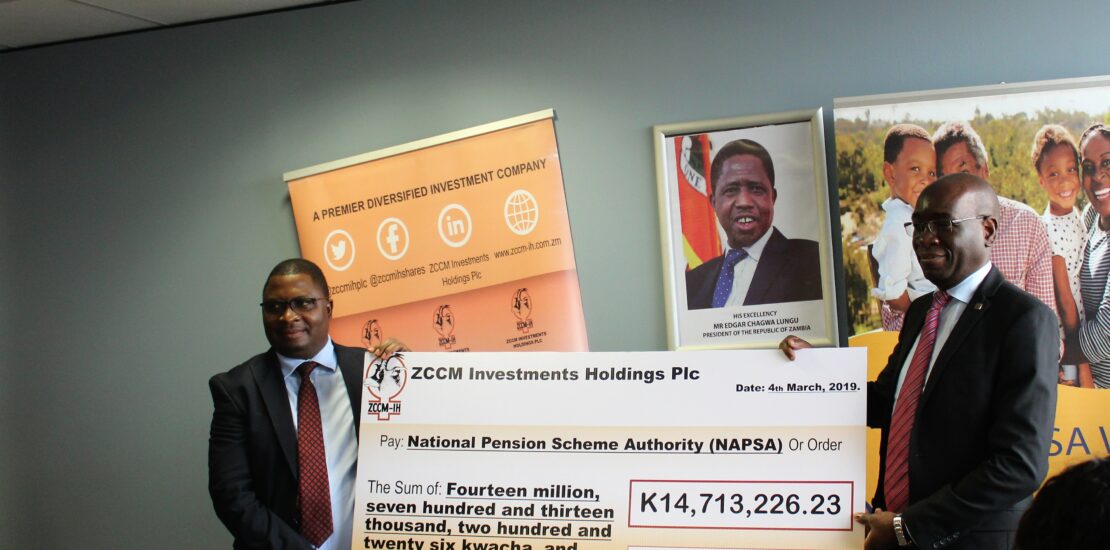 The National Pension Scheme Authority (NAPSA) has started the year 2019 on a good note with a dividend cheque worth K14. 7 million received from one of its investments in the Zambia Consolidate Copper Mines-Investment Holdings (ZCCM-IH).
NAPSA is the second largest shareholder with 15% following the government which is the major shareholder in ZCCM-IH
Speaking when receiving the cheque at NAPSA Head office, this morning, NAPSA Director General Mr. Yollard Kachinda said  NAPSA members were the ultimate beneficiaries of the investments made by NAPSA in ZCCM-IH.
Mr. Kachinda further noted that the development was a clear demonstration of the positive trajectory that the Authority had made through its investments.
"You may wish to know that there are presently more than 15,700 people that are looking up to us for their monthly pension. For some of them, that is their only hope every month. that is why we always have to do the right thing as we invest our members' funds so that it can grow and that we can continue paying benefits as we have promised" he said
Mr. Kachinda assured members of the scheme that NAPSA would protect their welfare and continue to work in their best interest by choosing investments that would bring meaningful returns for their benefits.
And presenting the cheque to NAPSA,  ZCCM-IH Acting CEO Mr. Mabvuto Chipata said the main focus of ZCCM-IH was to continue creating shareholder value to sustain the delivery of the return on investment.
Since 2014, the total of dividends paid to NAPSA by ZCCM-IH amount to k47.9 million.