August 15, 2019
Posted by:

Simangolwa Muyunda

Category:

News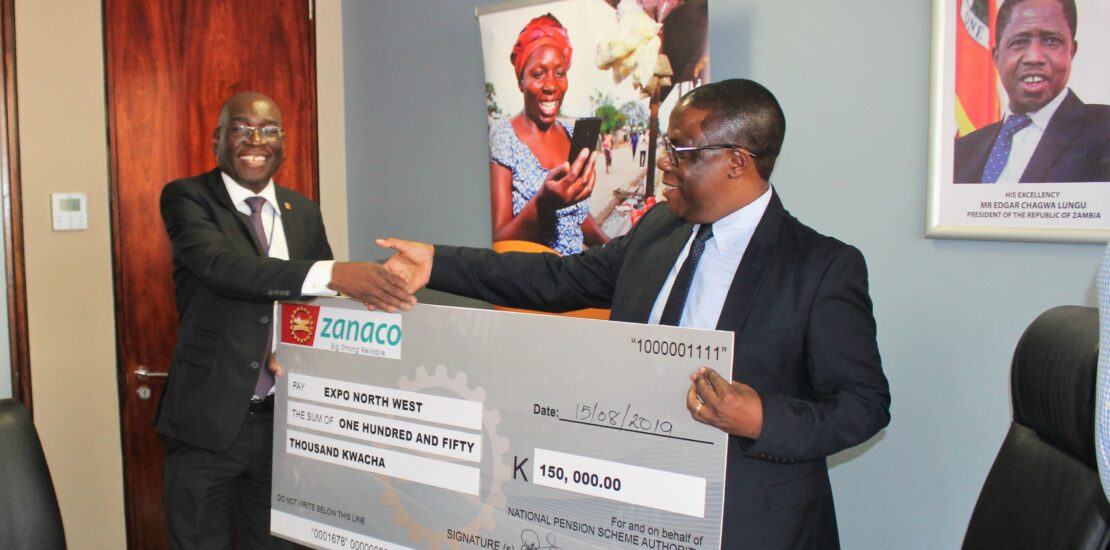 The National Pension Scheme Authority (NAPSA) says Zambia has enormous economic potential in agriculture, forestry, tourism, fisheries and livestock that can be harnessed to attract investments.
Commenting when he made a donation of K150, 000 towards the successful hosting of the 2019 North Western Expo, Mr. Yollard Kachinda, NAPSA Director General noted that expos have so far been a conduit for the Authority to identify and explore investment opportunities in the different sectors of the economy.
Mr. Kachinda added that NAPSA will continue to support such avenues as a way of contributing to the growth of the fund through increased membership as a result of new job opportunities.
"NAPSA's interest in supporting investment expos is twofold; job creation and economic development which in the long run will bring pride to the nation in line with its Vision and the financial sustainability of the fund as a result of increased membership."
Mr. Kachinda further noted   that expos provide an excellent platform to network with different stakeholders in identifying prospective investments.
He said Zambia has a huge potential in Livestock and Fisheries due to the current low livestock numbers versus a huge local and foreign demand for livestock products.
Mr. Kachinda added that many tourism sites in the province remain unexploited, undeveloped and therefore unexplored, presenting an excellent opportunity for investment in tourism.
"For us as NAPSA, these opportunities are important in many respects. We would therefore like to reiterate our support towards efforts aimed at harnessing the identified potential of our country."   He remarked.
Mr. Kachinda further echoed that NAPSA as a trusted partner that protects peoples' future and brings pride to the nation has a fiduciary responsibility to invest in viable projects.
In receiving the cheque donation, North Western Province Minister, Mr. Nathaniel Mubukwanu thanked NAPSA for the support rendered towards the hosting of the North Western Expo.
Mr. Mubukwanu said NAPSA was a strategic partner in the development of North western province.
He expressed happiness in the constructed Chingola- Solwezi road that was funded by NAPSA in partnership with the National Road Fund Agency.
Mr. Mubukwanu said the road has significantly reduced travel time and significantly improved efficiency of the economy as it is linking the province to rest of Zambia and the neighbouring countries.
The National Pension Scheme Authority has so far supported four investment expos in the country namely; Luapula, Central, Copperbelt and North Western Provinces Expo in 2018 and 2019 respectively.