May 29, 2023
Posted by:

Alice Mapulanga

Categories:

General, News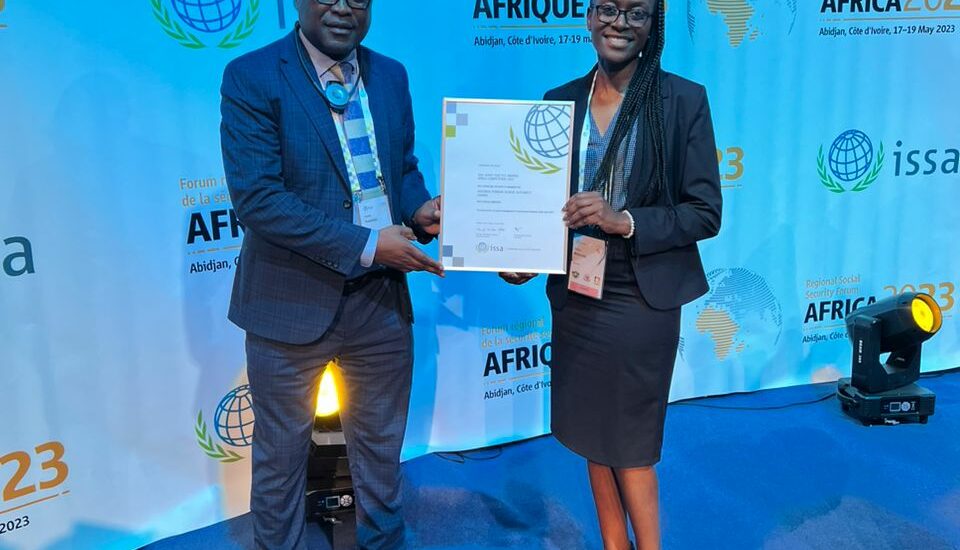 The International Social Security Association (ISSA) has awarded the National Pension Scheme Authority (NAPSA) two Certificates of Excellence in Good Governance and Communication by Social Security Administrations. The certificates were presented to Director Strategy and Business Performance, Ronnie Kamanya during the Regional Social Security Forum for Africa (RSSF Africa) in Abidjan, Côte d'Ivoire recently.
The Certificates of Excellence are given to institutions that demonstrate successful application of ISSA Guidelines in Social Security Administration. ISSA Guidelines for social security administration consist of internationally recognised professional standards in social security and form part of the ISSA Centre for Excellence in social security administration.
The Certificate of Excellence in Communication by Social Security Administrations demonstrates that the Authority has put in place the relevant communication structures, policies, procedures, and strategies that enable the Authority to connect with its stakeholders and make relevant information available to them. This helps to communicate the vision, mission, values, mandate and strategy of the Authority and improve service delivery.
The Certificate of Excellence in Good Governance recognises that the Authority's governance practices regarding board oversight, strategic planning, financial management among other areas meet the internationally-recognised standards and adheres to international governance principles and are thus bearing the desired fruit for the institution.
Speaking after receiving the certificates, Director General, Muyangwa Muyangwa expressed delight at the global recognition of the Authority's efforts in upholding international standards of practice in social security administration.
"The awards are an indication that as an institution, we are heading in the right direction in our quest to deliver quality social security to our members and that we are doing so while adhering to the high international standards of practice set by ISSA," he said.
"The Certificate of Excellence in communication by Social Security Administrations, indicates that we are working hard to not only educate and sensitise our members on matters of social security coverage, but that we are doing so in ways that are inclusive and strive to carry everyone along. Furthermore, good governance is a hallmark of NAPSA. We strive to operate above board and to achieve this, we have put in place various governance structures, policies, procedures, and guidelines to direct our day-to-day operations for the benefit of the members."
The Authority also received a Good Practice Award with merit for its Queue Management System. The system optimizes customer experience by informing customers of their status in a queue, thus making waiting times shorter as this allows customers to use their time in a more efficient manner.
The two Certificates of Excellence come one year after the Authority received three other Certificates of Excellence from the ISSA in Information Communication Technology, Service Quality and Administrative Solutions for Coverage Extension.