November 16, 2023
Posted by:

Alice Mapulanga

Categories:

General, News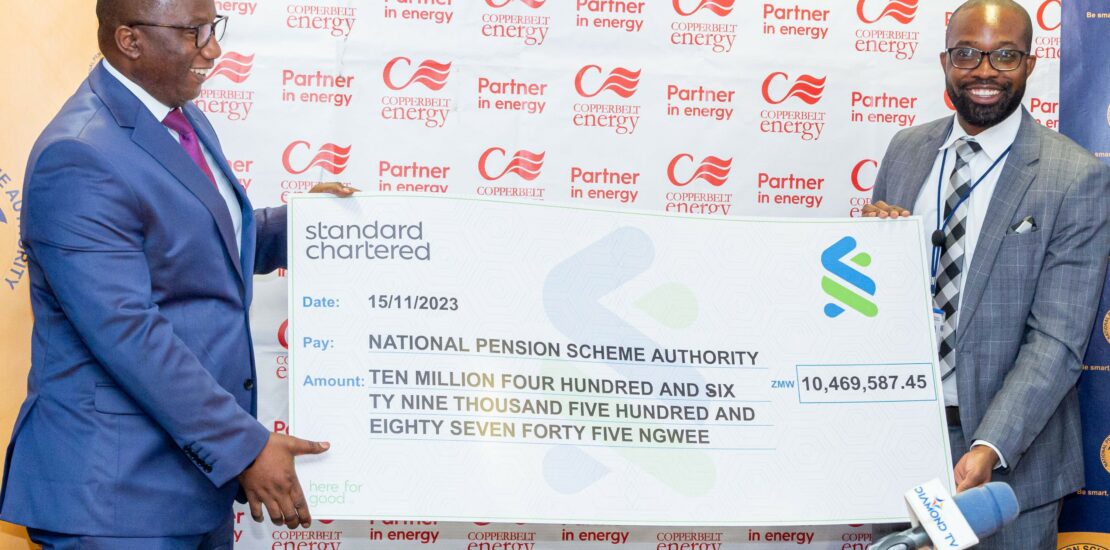 The National Pension Scheme Authority (NAPSA) was yesterday presented with a dividend cheque worth over K10 million by the Copperbelt Energy Corporation (CEC). This comes hot on the heels of yet another dividend Cheque from ZCCM-IH recently.
NAPSA Director General, Muyangwa Muyangwa has reiterated the significance of these dividends as testament of the Authority's sound investment decisions.
"The dividend we are receiving today, amounting to ten million, four hundred and sixty-nine thousand kwacha (K10,469,000), and others that we continue to receive from different investee companies, is testament our sound investment decisions. It demonstrates the financial viability and sustainability of NAPSA. These returns will enable us to expand our investment portfolio and further grow our fund size for the immediate and long-term benefit of our members," stated Mr. Muyangwa.
The cheque was presented by CEC Board Chairperson, Mr. London Mwafulilwa. Mr. Mwafulilwa expressed sincere gratitude to NAPSA and all shareholders, recognizing their role in CEC's success.
"I would like to express my gratitude to NAPSA and every shareholder in CEC, whether big or small. We would not have been able to achieve our current market capitalization of over K10 billion without your investments," he said.
This financial infusion not only highlights the successful partnership between NAPSA and CEC but also underscores the robust financial position and strategic vision of NAPSA. The Authority remains committed to making prudent investment decisions for the benefit of its members, ensuring the long-term growth and sustainability of the pension fund.
As NAPSA continues to grow its investment portfolio, the dividends received will play a crucial role in fulfilling its mission of securing the financial wellbeing of its members.