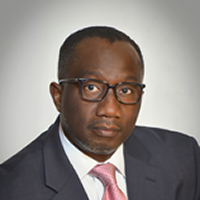 Mr Muyangwa has over thirty (30) years of experience in financial services, tax, customs and revenue administration and capacity building. He is a holder of a Master's Degree in Business Administration with FiscalManagement from Bath University in the United Kingdom and Bachelor of Business Administration from theCopperbelt University.
Recently working as Senior Economist at the International Monetary Fund, Mr Muyangwa has helped countries in the Sub-Saharan Africa and the Caribbean to improve domestic revenue mobilization capacities throughdeveloping and implementing medium term revenue strategies and supporting reforms. Prior to that he contributedto domestic revenue mobilization in Zambia through various roles, including as Commissioner for Value Added Tax and Commissioner for Customs Services at the Zambia Revenue Authority.
NAPSA will no doubt benefit from Mr Muyangwa's immense experience and exposure. I therefore invite all members of staff to rally behind his leadership by giving him maximum support in this new role and as he joins us in our journey of serving our members and securing their future.