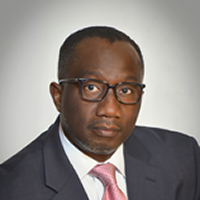 Muyangwa Muyangwa is a seasoned senior executive with 30 years combined experience in the financial and fiscal sectors. He recently worked as Senior Economist at the International Monetary Fund (IMF) – Headquarters, Washington DC. Before that, he served in various positions at the IMF, including as Technical Assistance Advisor and Revenue Administration Advisor in East Africa and West Africa, respectively. Before joining the IMF worked for Zambia Revenue Authority, rising through ranks from graduate entry level to initially Commissioner VAT and later Commissioner Customs Services. He also worked for Meridian BIAO Bank Limited (liquidated).
Over the years, he has acquired key skills in organizational reform and transformation to deliver institutional mandates, strategic planning for phased development, fostering an outcome-based approach to management, business re-engineering for improved service delivery, expansion and management of client bases, project management (from initiation to execution), managing risks (institutional and compliance), human capital development to assure institutional capacity to deliver on strategies, building effective teams and coordinating development partners.
He is a holder of a master's degree in Business Administration and a bachelor's degree in Business Administration from the University of Bath in the United Kingdom and Copperbelt University, Zambia, respectively.