March 23, 2020
Posted by:

Simangolwa Muyunda

Category:

News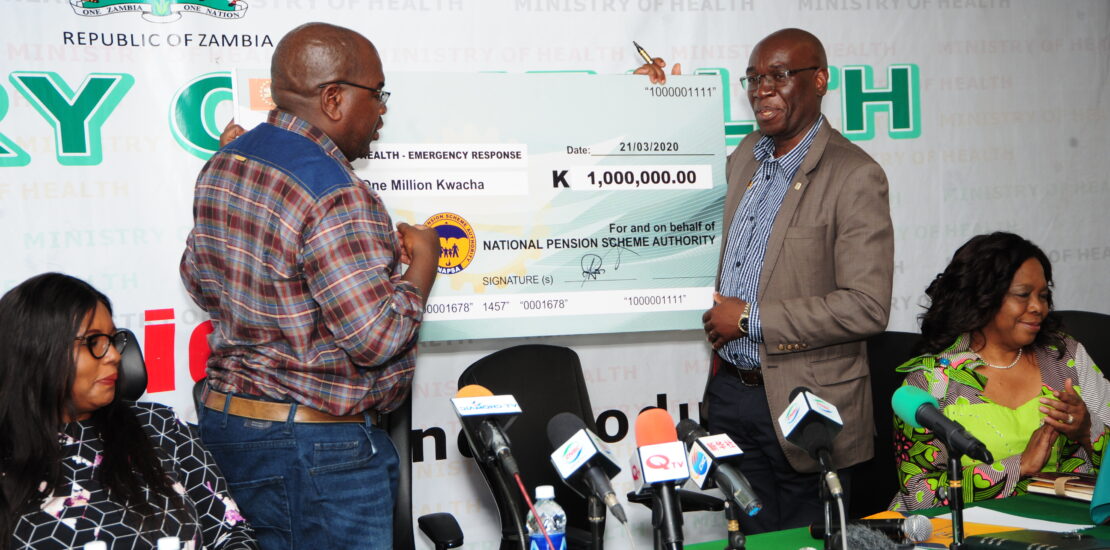 The National Pension Scheme Authority (NAPSA) has joined the national fight against COVID-19 by channeling financial support to the Ministry of Health – Emergency Response team to the tune of one million kwacha.
The contribution which has come through NAPSA's Corporate Social Responsibility (CSR) programme is for the purchase of emergency medical equipment and supplies for the containment of COVID-19. The equipment and supplies will be procured immediately with guidance from the Ministry of Health.
Speaking when he made the donation during the Minister of Health's routine update at  Ministry of Health Headquarters in Lusaka yesterday, NAPSA Director General, Mr. Yollard Kachinda reiterated NAPSA's commitment to supporting health as it was one of the key pillars of economic development.
"Despite Zambia recording only three cases to date, the virus has already killed thousands of people in many other countries across the world. This pandemic threatens our society and requires concerted efforts from every institution and individual", observed Mr. Kachinda.
Mr. Kachinda explained that the Authority found it prudent to collaborate with the Ministry of Health to help preserve human life.
He commended the effort and measures implemented by the Ministry of Health and other stakeholders, including private citizens in addressing the pandemic.
Mr. Kachinda said that the financial support  provided by NAPSA, though limited in the light of the magnitude of the problem, would help to address some immediate pressing needs and save lives.
Receiving the donation, Minister of Health Hon. Dr. Chitalu Chilufya, thanked NAPSA for the support that he said would go a long way in supplementing government's effort in the fight against the pandemic.
Dr. Chilufya said His Excellency, President Edgar Chagwa Lungu was gravely concerned with COVID-19 and had directed a multisectoral robust response against the disease.
He has appealed to all Zambians and visitors  to abide by the Corona virus prevention guidelines.
The Corona Virus which started in China in December 2019 has spread rapidly to 150 countries and territories with cases standing at over 300,000 including 13,000 plus deaths. The World Health Organisation has since declared the outbreak a pandemic.